Written by Andy Kale
This website provides a real-time monitor of geomagnetic activity in the Edmonton area and offers a free email alert service to let you know if there may be aurora visible tonight. The current probability of witnessing an aurora tonight is:
| | |
| --- | --- |
| | 19% |
Current geomagnetic activity plots for the Edmonton region (and similar magnetic latitudes). Yesterdays information can be seen on the left, todays on the right. (Click on the image to enlarge).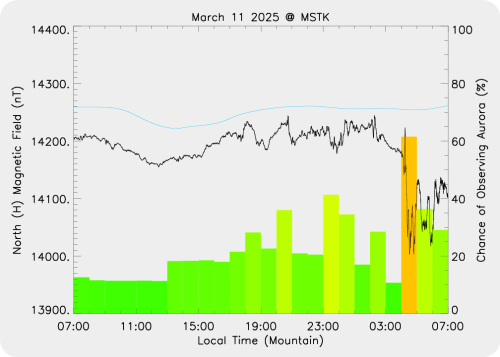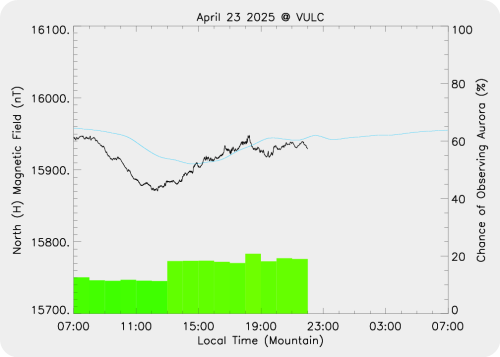 Written by Andy Kale

There has been quite a bit of solar activity recently, especially this Rememberance Day weekend. This led to a rather disturbed magnetosphere giving rise to some dazzling displays of the Northern Lights. With their cameras in the right place at the right time were the following; John Andersen, Mark Coker and Kate Campbell, Thomas Vogt, Mike Isaak, Theresa Tanner, Zoltan Kenwell, Damien Sundgren, Andrew Caitens, Jesse Martineau, Beverly Nelson, Libby Daghorn, Dan Jurak, Darcy Conn, Chris Ratzlaff, Jeff Wallace, Larry Erlendson and Kevin Tuong. Thanks for sharing!
Read more...
Written by Andy Kale

We've been sent some truely beautiful images from the event taking place on October 15th. Thanks to the following nocturnal shutterbugs: Dan Jurak, Theresa Tanner, Peter Stahl, Zoltan Kenwell, Ryan Ranido, Jacob Ang, June Fox, Steven Efondo and PJ and Claudia Potgieser-Holleman.

Read more...

Written by Andy Kale

A CME was released from the sun and hit the Earth treating some to a dazzling show of the Northern Lights. Those lucky people carrying cameras have shared some stunning images - thanks go to Mike Isaak, Thu Blackwell, Bonnie Herschmiller, Ryan Ranido, David Smith, Theresa Tanner, PJ and Claudia Potgieser-Holleman and Mary Ann Janzen.

Read more...

Written by Andy Kale

Here's another batch of stunning images sent by some excellent nocturnal photographers. Thanks go to Paul Zizka, June Fox, Marquess Beck, Mel Arbib, Tony Wong and Darcy Conn

Read more...