Written by Andy Kale
This website provides a real-time monitor of geomagnetic activity in the Edmonton area and offers a free email alert service to let you know if there may be aurora visible tonight. The current probability of witnessing an aurora tonight is:
| | |
| --- | --- |
| | 18% |
Current geomagnetic activity plots for the Edmonton region (and similar magnetic latitudes). Yesterdays information can be seen on the left, todays on the right. (Click on the image to enlarge).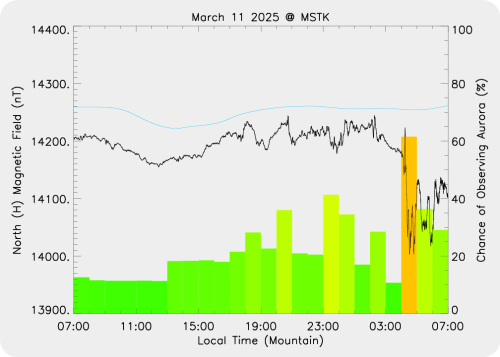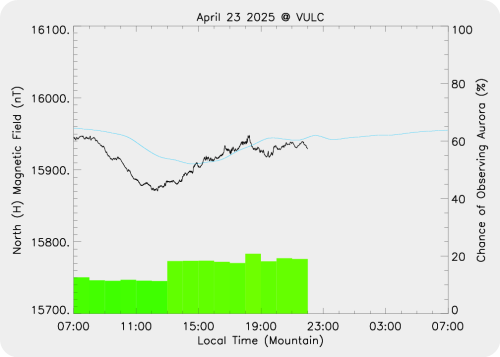 Written by Andy Kale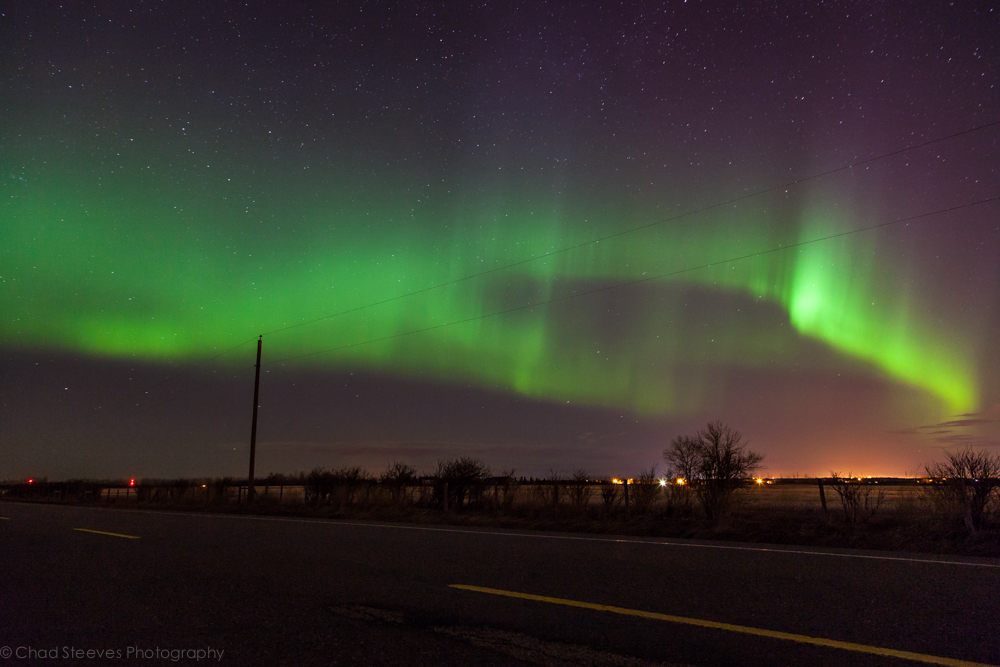 Eggceeding all eggspectation, we were treated to some eggcellent Easter auroral activity. This eggciting show was captured by some eggceptional photographers who are willing to eggchange their pictures with us. We'd like to eggspress our thanks to Lindsay Smith, Paul Janovec, Stan Cholak, Sean Trostem, Heff Doiron, Chad Steeves, Ryan Ranido, John Andersen, Bill Trout and Bhavin Patel.
Read more...
Written by Andy Kale

We've been sent some great pictures from the recent auroral activity. The recent solar maximum has turned our to be one of the weakest in 100 years, however we were still treated to a great show this weekend. Thanks to Heff Doiron, Brad Russell, Sandra Hoffmann, John Andersen, Sarah Morse, Theresa Tanner, Marko Woite, Evelyn Lo and John Serewko.

Read more...

Written by Andy Kale

We've been sent some great pictures of a recent events from 10 Mar and 13 Mar 2014. Thanks to Heff Doiron, John Andersen and Brett Abernethy.

Read more...

Written by Andy Kale

Another little event popped up on 28 Feb. with people out and about, braving the cold and dark. Thanks to Ryan Ranido, Jacob Ang and Mathew Stewart.

Read more...

Written by Andy Kale

Things got quite busy recently! We had a great couple of days of activity (remember, if we have a strong red alert on one day, we sometimes stand a chance of the disturbance carrying on for another day). Big thanks go to the following for capturing and sharing this great event: Mary Ann Janzen, Diana Picek, Zoltan Kenwell, Emilio Carballido, John Watkinson, Lochlann Magennis, Ori Kutay, Ross Morley, Paul Zizka, Nic Sharkey, Jordan Kreuger, Ajay Pawar, Anna Basa, John Andersen, Mayara Magalhaes Souza, Andrew Caitens, Bonnie Herschmiller, Theresa Tanner, Stephen Thompson, Cameron Mueller, Leonard Bevaart, Darcy Conn, Ryan Ranido, Phuwadet Pasarj, William Vavrek, Zack Splaine, Mathew Stewart and Heather Burton.

Read more...