Written by Andy Kale
This website provides a real-time monitor of geomagnetic activity in the Edmonton area and offers a free email alert service to let you know if there may be aurora visible tonight. The current probability of witnessing an aurora tonight is:
| | |
| --- | --- |
| | 20% |
Current geomagnetic activity plots for the Edmonton region (and similar magnetic latitudes). Yesterdays information can be seen on the left, todays on the right. (Click on the image to enlarge).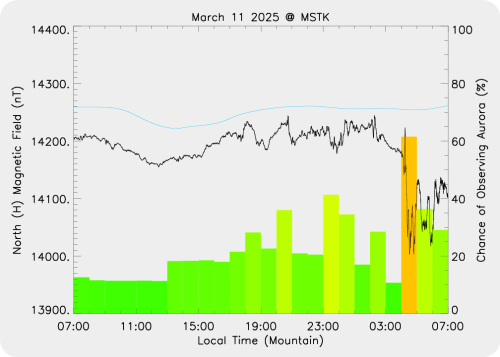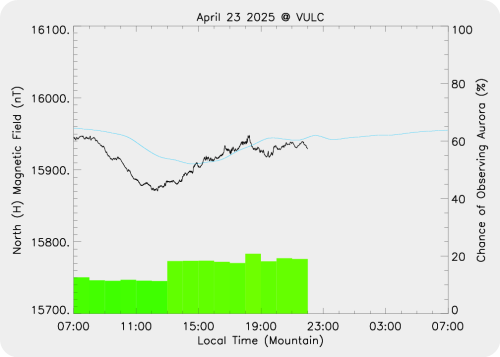 Written by Andy Kale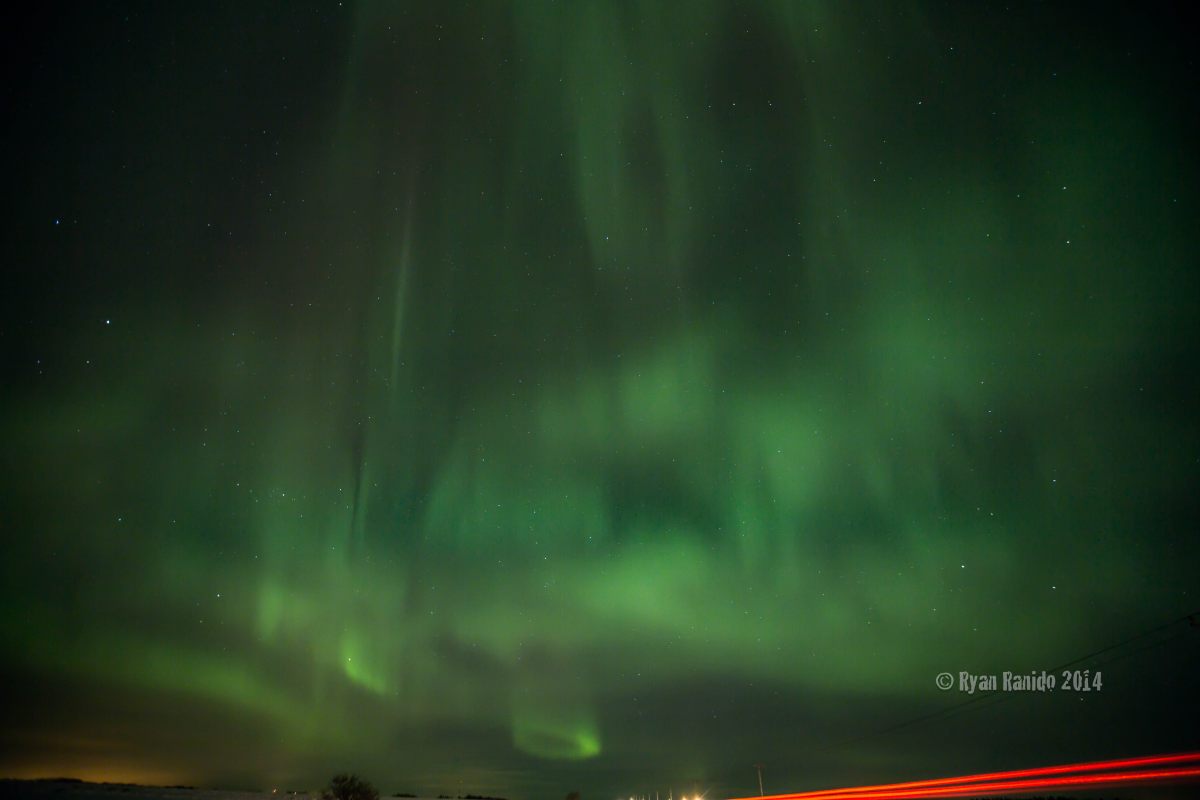 Another little event popped up on 28 Feb. with people out and about, braving the cold and dark. Thanks to Ryan Ranido, Jacob Ang and Mathew Stewart.
Read more...
Written by Andy Kale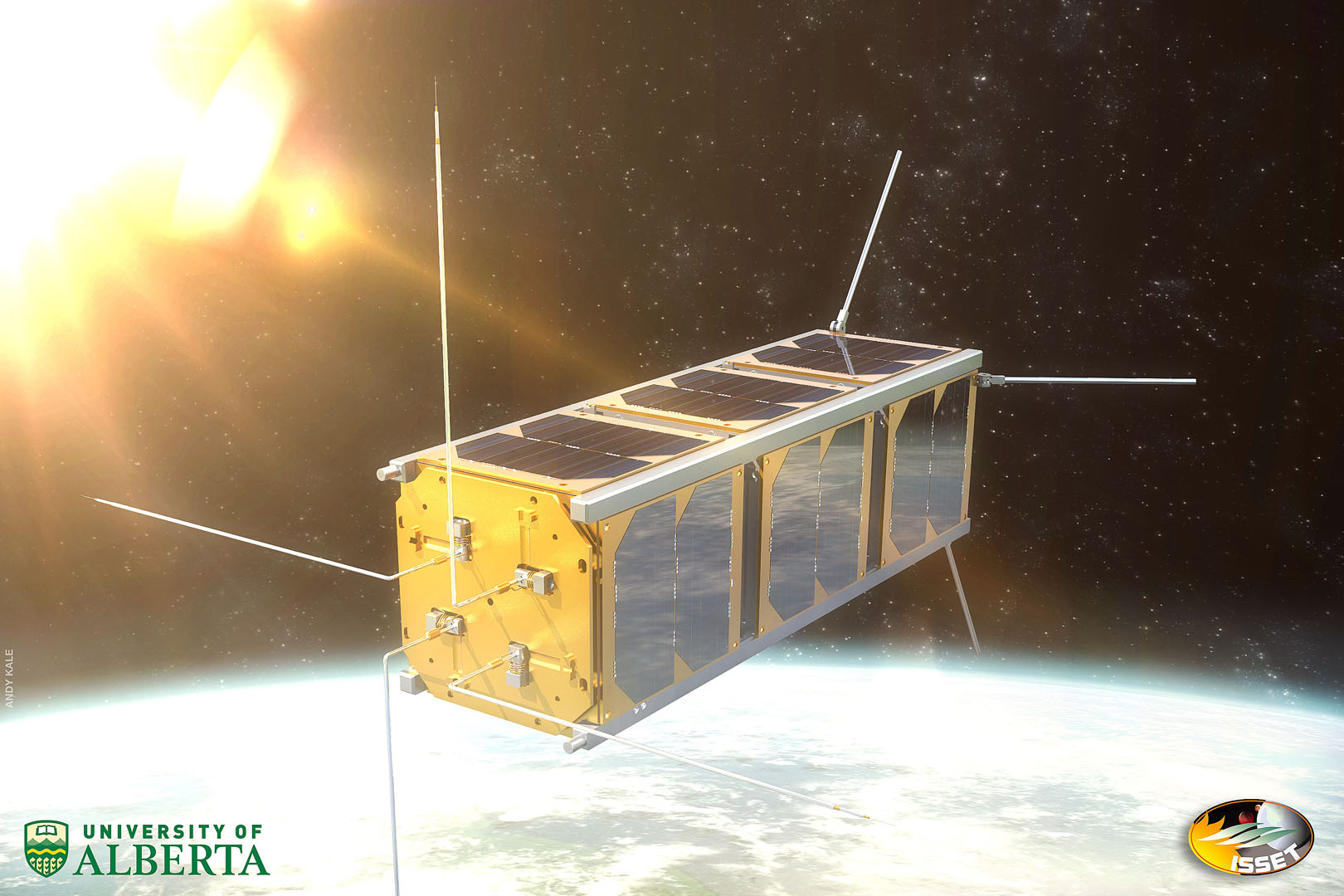 As part of a dynamic and exciting program, the University of Alberta is undertaking the design, build and launch of the University of Alberta's first satellite into space - the first ever Alberta-built satellite!
We launched our fund raising campaign with a goal to raise a first milestone of $15,000. With your generous support we have now passed that milestone and trying to raise the remainder of our $60,000 launch cost.
As part of a European Commission program, we already enjoy support such that the launch costs only represent a small fraction of the commercial cost - providing a wonderful chance to get the satellite into space and a wonderful training and research opportunity for our students!
You can support this project by visiting: http://albertasat.ca/useed

or by clicking here:

Significantly, for a $100 donation, the satellite will carry your name to space! The satellite, and your name, will orbit for three months before ending life as a shooting star!
Donations will also be supported by a Canadian tax receipt.
Please also support and promote us on social media on facebook, twitter etc - and feel free to spread the word to anyone else who might be interested.
I hope you will join us in supporting this exciting project.
Written by Andy Kale

Things got quite busy recently! We had a great couple of days of activity (remember, if we have a strong red alert on one day, we sometimes stand a chance of the disturbance carrying on for another day). Big thanks go to the following for capturing and sharing this great event: Mary Ann Janzen, Diana Picek, Zoltan Kenwell, Emilio Carballido, John Watkinson, Lochlann Magennis, Ori Kutay, Ross Morley, Paul Zizka, Nic Sharkey, Jordan Kreuger, Ajay Pawar, Anna Basa, John Andersen, Mayara Magalhaes Souza, Andrew Caitens, Bonnie Herschmiller, Theresa Tanner, Stephen Thompson, Cameron Mueller, Leonard Bevaart, Darcy Conn, Ryan Ranido, Phuwadet Pasarj, William Vavrek, Zack Splaine, Mathew Stewart and Heather Burton.

Read more...

Written by Andy Kale

After seemly a very long tie we were finally treated to some exciting auroral activity. Even though it was only a yellow alert several (eager?) people were out and about ready to capture the great event. Thanks go to Matt Melnyk, Zoltan Kenwell, Theresa Tanner and Steven Efondo

Read more...

Written by Andy Kale

Things seem to be ever so quiet at the moment. There has been very little activity registered by our magnetometer near Edmonton. Hopefully we'll see some more activity soon.

In the meantime, here's a great picture Theresa Tanner took on new years day at 1am, west of Mirror, AB.

Written by Andy Kale

Unfortunately the conditions just didn't line up for the expected show. To get the best interaction with particles from the sun, the magnetic field of the emission must be southward relative to the Earth. When this happens the magnetic fields of the CME and the Earth can couple together (reconnect) allowing the particles to get into the magnetosphere, eventually leading to great displays. The magnetic field of the CME remained northward, meaning the bulk of the CME was deflected around us. Maybe next time - there's plenty of dark nights ahead yet...

Read more...